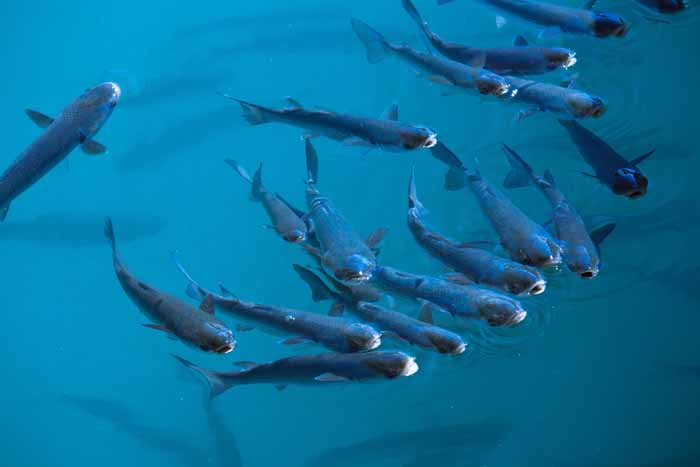 Fish Feel is the sole organization devoted exclusively to promoting the recognition of fish as sentient beings deserving of respect and protection. Despite fish constituting the largest category of animals used for food (including as farmed animal feed), and despite huge numbers of fish harmed for research, "sport," and aquaria, their well-being receives very little attention, even from the animal protection community.
Fish Feel primarily serves to help educate the public as to why these animals are deserving of our appreciation, the immense problems caused by their exploitation, and how we can help them.
Fish Feel is an all-volunteer organization that relies on individual contributions and grants. Fish Feel is a 501(c)3 nonprofit organization and a member of the Maryland Association of Nonprofit Organizations. All donations are tax deductible to the full extent allowed by law.
Seed funding has been provided by The Pollination Project and A Well-Fed World. Additional funding has been provided by the Town Creek Foundation. Our website redesign was sponsored by Animal Guardians.

Howard Edelstein is Treasurer of Fish Feel and Administrator of the Fish Feel website. A professional website and database developer, Howard is a long-time animal rights activist who has designed websites for many animal protection organizations. In addition to a B.S. in Agriculture, and one in Computer Science, he recently earned a B.S. in Emergency Management and is actively involved in animal sheltering during disasters and cruelty cases; i.e., This little piggy made it all the way home. Howard is the author of Scooter Strays, an interactive childrens book about the dangers facing a stray dog, and he is completing one on disaster preparation for families with animals. For the past decade, Howard has served as the Chair of Poplar Spring Animal Sanctuary's "Run for the Animals" race committee.

Mary Finelli
Mary Finelli is President and Chairperson of Fish Feel. Mary is a long-time animal rights activist with a B.S. in Animal Science. With a primary focus on farmed animals, she has worked for various animal protection organizations, including as Researcher and then Program Director for the Humane Society of the United States from 1992 to 1999. Mary was the Producer of Farmed Animal Watch, a weekly online news digest sponsored by numerous animal protection organizations. She has assisted with research for several books, and co-wrote a chapter of In Defense of Animals: The Second Wave. Mary has long been a top contributor to AR-News, Animal_Net, and other animal rights and vegetarian news listservs.

Gary Loewenthal
Gary Loewenthal is Vice President of Fish Feel. Gary is the co-Founder of Compassion for Animals and Founder of the Worldwide Vegan Bake Sale (WVBS). In 2009, the WVBS was honored by VegNews Magazine as "Veg Event of the Year," as well as featured on CNN in 2010. Gary is the Campaigns Director for the PB&J (Peanut Butter & Jelly) Campaign and the Worldwide Vegan Bake Sale, both now under the auspices of A Well-Fed World.

Cam McQueen
Cam MacQueen is a Director of Fish Feel. Cam earned a Master's Degree in Social Work from UMD and is completing a Master's in Religious Studies from Howard University School of Divinity. For decades, Cam has worked for animal rights, environmental, and other social justice issues in both a professional and volunteer capacity. Her work includes several lobster liberation missions and has been featured on CNN and in The New York Times, Los Angeles Times, and The Washington Post. Cam serves on several committees, including Reel & Meal at the New Deal Cafe, Poplar Spring Animal Sanctuary's "Run for the Animals," Acorns A Go-Go Groovy Vegan Fest, and Kale-A-Rama Vegan Fest. Additionally, she served for nearly four years as the Vice-Chair of the Prince Georges County Commission for Animal Control. Cam is responsible for the long-running column "Cultivating Compassion" in Pathways magazine, and is currently working on her first vegan-related documentary. See also: Berwyn Heights resident takes the plunge to save goose.

Kelly Levanda
Kelly Levenda is Fish Feel's Website & Social Media Contributor. Kelly is a staff attorney at the Animal Legal Defense Fund. She has a bachelor's degree in animal science from the University of Illinois, and studied animal law at Lewis & Clark Law School. Kelly's paper, Legislation to Protect the Welfare of Fish was published in Animal Law Review. She hopes to use her scientific and legal knowledge to improve the lives of farmed animals.

Barry Austin, a veteran anti-cruelty campaigner, is our U.K. contact.

Laura Moretti
Laura Moretti is the founder, editor, and publisher of The Animals Voice Magazine, in print and online since 1986. From an undercover agent for the New Jersey SPCA, to a lobbyist for animal protective legislation in every state she has ever lived in, to hands-on rescue of wild horses, to magazine and web site publishing, to serving on the board or advisory boards of various organizations, Laura has been an activist for animals for 40-plus years. She has a special fondness for frogs — and fishes.

Jonathan Balcombe
Jonathan Balcombe, PhD, is an ethologist and the author of several books on animals, including Pleasurable Kingdom, Second Nature, and The Exultant Ark. Jonathan is Executive Director for the Humane Society Institute for Science and Policy, and is currently working on a book on the inner lives of fishes, titled What a Fish Knows.

Marcia Berdansky
Marcia Berdansky, a long-time animal advocate, has worked in the financial field for over 30 years and has operated her own bookkeeping business since 1999.

Karen Davis
Karen Davis, PhD, is the founder and president of United Poultry Concerns, a nonprofit organization dedicated to the compassionate and respectful treatment of domestic fowl. Founded in 1990, United Poultry Concerns addresses the treatment of domestic fowl in food production, science, education, entertainment, and human companionship situations. Karen has a PhD in English from the University of Maryland-College Park where she taught for twelve years in the English Department.

Andrzej Elzanowski
Prof. de hab. Andrzej Elzanowski is currently Professor of Vertebrate Zoology at the Polish Academy of Sciences. He has previously held positions with, among others, the Humane Society of the United States, the Max Planck Institute, and Smithsonian Institution. Dr. Elzanowski is Chairman of the Animal Welfare Section of the Polish Society of Ethics.

Lester Friedlander, DVM
Lester Friedlander, DVM, earned his veterinarian degree in 1979. Dr. Friedlander was Supervisory Veterinary Medical Office for the USDA's Food Safety Inspection Service for a decade, ultimately blowing the whistle on the lack of enforcement of animal protection regulations inside slaughterplants. He is recognized for his work on the Board of Directors for the National Association of Federal Veterinarians, and has received numerous USDA awards including Veterinary Trainer of the Year. Dr. Friedlander has served as a director or in an advisory capacity for numerous animal protection organizations, including the Humane Society of the United States, and he is the president of Citizens Against Equine Slaughter.